Synonyms, abbreviations and/or process names
— Spray drying adsorption
— Semi-dry lime injection
— Semi-wet lime injection
Removed components
— SOx
— HCl
— HF
— (dust)
Diagram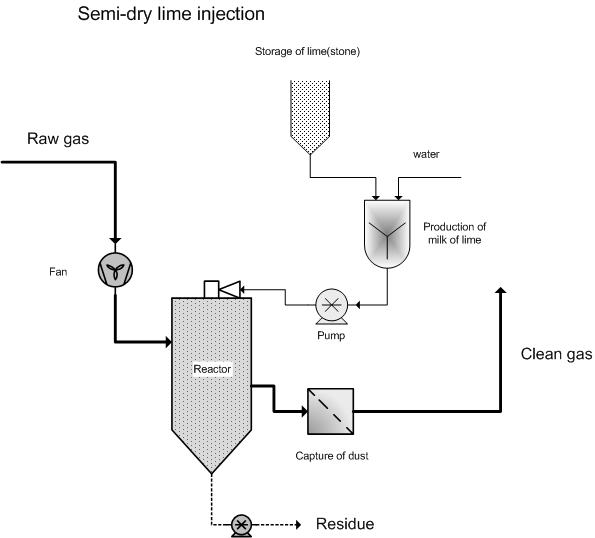 Process description
During semi-dry lime injection, acidic components such as HC1, HF and particularly SO2, are removed from flue gases by bringing them into contact with scrubbing liquid in which reagents have been dissolved or suspended. This creates a dry reaction product, which means there is no need to treat rinsing-water. The technique of semi-dry cleaning is derived from spray drying.
By spraying very fine scrubbing liquid into the flue gas stream, a large contact area is created between gaseous pollutants and the reagents in the scrubbing liquid. By adsorbing the gaseous pollutants in the droplets, followed by a reaction between the reagents and the pollutant, a compound is created within the droplet as a result of chemisorption. The water vaporises due to the high temperature of the flue gas, whereby the formed compound is left behind as a solid substance. Such reactions can be performed with acidic pollutants such as SO2, HCl and HF. Ca(OH)2, CaCO3 and other variants can be used as reagents. As a result of the large contact area, a good yield is possible with a low excess of chemicals.
The pollutant, which is present in flue gases as a solid once the reaction has taken place, can then be removed from the flue gases using, for example, a fabric filter or an E filter. During this cleaning, the dust in the flue gas can also be separated. Due to the vaporisation of the washing water, the temperature of the flue gases drops considerably, which makes it possible to use fabric filters for dust separation.
Semi-dry cleaning is carried out with a stoichiometric excess of 1.3 – 1.5, depending on the desired residual emission, whereby lime use and the proportion of unused additive in the collected substance is limited, compared to dry cleaning.
Variants
/
Efficiency
— SOx: 85 – 90 %
— HCl: > 90 %
— HF: > 85 %
Boundary conditions
— Flow rate: 0 – 1 000 000 Nm3/h
— SOx: Broad range
— HCl: Broad range
— HF: Broad range
Auxiliary materials
— Sorbents in a quantity Ca/S times 1.3 – 1.5
— Depending on the application, unslaked lime or limestone can be used as a sorbent.
Environmental aspects
— Residue collected in the dust separator
— Residual emissions
Energy use
Energy use is ca. 1 kWh/1 000 Nm3 depending on the dust separation system. [5]
Cost aspects
Investment
— For the removal of acidic components in a household-waste incineration plant with a capacity of 155 000 ton
household-waste per year and with a flue gas flow rate of ca. 100 000 Nm3/h, the investment costs are ca.
5 000 000 EUR for the semi-dry lime injection combined with a fabric filter. The type of dust-removal system
partly determines the cost aspects.
Operating costs
— Personnel costs: ca. 20 000 EUR per year (1 day per week)
— Auxiliary and residual materials
Cost aspects CaCO3: ca. 60 EUR/ton
For flue gases from a household-waste incineration plant with a capacity of ca. 150 000 ton per year and a flow rate of ca.100 000 Nm3/h and with the following average gas composition for acidic components:
Acidic component

Concentration

(mg/Nm3)1

Boundary limit

(mg/Nm3)2

SO2

70 – 300

50

HCl

500 – 1 000

10

HF

0,4 – 5

1
1: measurements performed by VITO at a household-waste combustion plant
2: day averages VLAREM II
For the removal of acidic components, lime use amounts to 133 kg/h or 3 192 kg/day. On an annual basis, this means ca. 12 ton per 1 000 Nm3/h or 706 EUR per year per 1 000 Nm3/h. Costs for the disposal of collected substances still need to be added.
Advantages and disadvantages
Advantages
— Higher separation yield compared to dry lime injection;
— Relatively simple installation;
— Cheaper than wet gas scrubbing;
— No waste water
Disadvantages
— Moisture may cause problems if a fabric filter is employed later;
— Residue with an excess of lime
Applications
As a flue gas purification technique for combustion processes in:
— Waste incineration installations;
— Electricity production
References
Factsheets on Air-emission reduction techniques, www.infomil.nl, Infomil
Common waste water and waste gas treatment and management systems in the chemical sector. BREF document, European IPPC Bureau, http://eippcb.jrc.es
Elslander H., De Fré R., Geuzens P., Wevers M. (1993). Comparative evaluation of possible gas purification systems for the combustion of household waste. In: Energie & Milieu, 9
Vanderreydt I. (2001). Inventory of the waste incineration sector in Flanders. Vito, 2001/MIM/R/030
Work-book on environmental measures: "Metal and electro-technical industry" (1998 ). VNG publishers
Supplier information
VDI 3928, Abgasreinigung durch Chemisorption
L. Goovaerts, W. Luyckx, P. Vercaemst, G. De Meyer and Dijkmans, Best Available Technique for combustion plants and stationary engines, 2002