The figure below provides an overview of the relationship between the basic elements 'plan', 'concept' and 'technique'.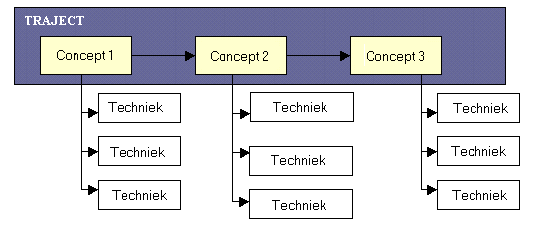 A strategy consists of a number of concepts. There are 17 strategies in BOSS.
A concept is a task which must be fulfilled by the soil remediation system; a concept can be realized by several techniques ('or' relation). One technique can be applicable for several concepts. There are 57 concepts in BOSS.
A concept can be executed by a number of techniques ('OR' relation). A certain technique can be used under several concepts. In total there are 101 techniques in BOSS.
The table below gives an overview of the relation between strategies, concepts and techniques that are considered in this system.
| | | |
| --- | --- | --- |
| Strategy | concept | technique |
| In-situ aerobic bioremediation - removal | biosparging | Injection on vertical filters |
| | | Injection on horizontal filters |
| | | injection on gravel groove/gravel case |
| | | discontinuous(steering all filters at the same time or individual per filter) injection via PLC steering |
| | | Extraction of air via vertical filters (optional) |
| | | Extraction of air via horizontal filters (optional) |
| | | Purification of extracted air (optional) |
| | | Installation of a bioactive layer/in-situ installation of a bio-filter (compost, nutrients) (optional) |
| | | |
| | bioventing | Extraction of air via vertical filters |
| | | Extraction of air via horizontal filters |
| | | Extraction of ground water to enlarge the unsaturated zone (optional) |
| | | Installation of vertical filters/drains/trenches to enable passive extraction of air |
| | | Purification of extracted air (optional) |
| | | Purification of extracted ground water (optional) |
| | | |
| | Insert oxygen source | Injection on vertical filters |
| | | Injection on horizontal filters |
| | | injection on gravel groove/gravel case |
| | | Injection by direct push |
| | | Installation of socket systems |
| | | Oxygen infusion via membrane systems |
| | | Injection slow working (solid) oxygen source into the excavation area |
| | | Extraction of ground water to enable recirculation (optional) |
| | | Purification of extracted ground water (optional) |
| | | |
| | Insert nutrients (N, P-source) - optional to aerobic bioremediation | Injection on vertical filters |
| | | Injection on horizontal filters |
| | | injection on gravel groove/gravel case |
| | | Injection by direct push |
| | | Installation of socket systems |
| | | Injection into the excavation area |
| | | Extraction of ground water to enable recirculation (optional) |
| | | Purification of extracted ground water (optional) |
| | | |
| | insert bacteria (bio-augmentation) - optional to aerobic bioremediation | Injection on vertical filters |
| | | Injection on horizontal filters |
| | | injection on gravel groove/gravel case |
| | | Injection by direct push |
| | | Installation of socket systems |
| | | Injection into the excavation area |
| | | Extraction of ground water to enable recirculation (optional) |
| | | Purification of extracted ground water (optional) |
| | | |
| In-situ aerobe bioremediatie - control | Installation of a bio-barrier = control version | Injection on vertical filters |
| | | Injection on horizontal filters |
| | | injection on gravel groove/gravel case |
| | | Injection by direct push |
| | | Installation of socket systems |
| | | Extraction of ground water to enable recirculation (optional) |
| | | Purification of extracted ground water (optional) |
| | | |
| In-situ anaerobic bioremediation - removal | Insert an organic substrate that will be used as an e-donor | Injection on vertical filters |
| | | Injection on horizontal filters |
| | | Injection by direct push |
| | | injection on gravel groove/gravel case |
| | | Installation of socket systems |
| | | Injection into the excavation area |
| | | Extraction of ground water to enable recirculation (optional) |
| | | Purification of extracted ground water (optional) |
| | | |
| | Insert nutrients – optional to anaerobic bioremediation | Injection on vertical filters |
| | | Injection on horizontal filters |
| | | injection on gravel groove/gravel case |
| | | Injection by direct push |
| | | Installation of socket systems |
| | | Injection into the excavation area |
| | | Extraction of ground water to enable recirculation (optional) |
| | | Purification of extracted ground water (optional) |
| | | |
| | insert sulphate (to enable in-situ bio-precipitation of heavy metals) | Injection on vertical filters |
| | | Injection on horizontal filters |
| | | injection on gravel groove/gravel case |
| | | Injection by direct push |
| | | Injection into the excavation area |
| | | Extraction of ground water to enable recirculation (optional) |
| | | Purification of extracted ground water (optional) |
| | | |
| | insert nitrate and/or sulphate (as e-acceptor by anaerobic biological removal) | Injection on vertical filters |
| | | Injection on horizontal filters |
| | | injection on gravel groove/gravel case |
| | | Injection by direct push |
| | | Injection into the excavation area |
| | | Extraction of ground water to enable recirculation (optional) |
| | | Purification of extracted ground water (optional) |
| | | |
| | insert bacteria (bio-augmentation) - optional by anaerobic bioremediation | Injection on vertical filters |
| | | Injection on horizontal filters |
| | | injection on gravel groove/gravel case |
| | | Injection by direct push |
| | | Installation of socket systems |
| | | Extraction of ground water to enable recirculation (optional) |
| | | Purification of extracted ground water (optional) |
| | | |
| In-situ anaerobic bioremediation - control | Installation of a biological reactive wall_anaerobic | Injection on vertical filters |
| | | Injection on horizontal filters |
| | | injection on gravel groove/gravel case |
| | | Injection by direct push |
| | | Installation of socket systems |
| | | Extraction of ground water to enable recirculation (optional) |
| | | Purification of extracted ground water (optional) |
| | | |
| Soil air extraction | active soil air extraction | extraction of air via vertical filters |
| | | extraction of air via horizontal filters |
| | | installation of a top-sealing |
| | | Discontinuous (steering all filters at the same time or individual per filter) injection via PLC steering |
| | | purification of extracted air |
| | | lowering ground water level to enhance the unsaturated zone (optional) |
| | | |
| | passive soil air extraction | installation of vertical filters to create a passive rinsing of the unsaturated zone |
| | | installation of horizontal filters to create a passive rinsing of the unsaturated zone |
| | | installation of vertical filters/drains/trenches to enhance passive extraction of air |
| | | purification on extracted air |
| | | |
| Compressed air injection and soil air extraction | compressed air injection and active soil air extraction | extraction of air via vertical filters |
| | | extraction of air via horizontal filters |
| | | installation of a top-sealing (foil of hardened) |
| | | discontinuous(steering all filters at the same time or individual per filter) injection via PLC steering |
| | | injection of air on vertical filters |
| | | injection of air on horizontal filters |
| | | purification on extracted air |
| | | extraction of ground water to enlarge the unsaturated zone (optional) |
| | | Purification of extracted ground water (optional) |
| | | |
| | compressed air injection with bio-active layer | Injection on vertical filters |
| | | Injection on horizontal filters |
| | | discontinuous injection on horizontal or vertical filters |
| | | discontinuous(steering all filters at the same time or individual per filter) injection via PLC steering |
| | | installation of a bio-active layer/in-situ installation of a bio-filter (compost, nutrients) |
| | | installation of a top-sealing (foil of hardened) (optional) |
| | | |
| Pump&treat | Ground water extraction to reduce the pollution load | extraction on vertical filters |
| | | extraction on horizontal filters |
| | | extraction on a recirculation well |
| | | purification of ground water |
| | | |
| | Ground water extraction to enhance geohydrological control | extraction on vertical filters |
| | | extraction on horizontal filters |
| | | purification of ground water |
| | | extraction on a recirculation well |
| | | |
| | Re-injection of purified ground water | Injection on vertical filters |
| | | Injection on horizontal filters |
| | | injection on gravel groove/gravel case |
| | | |
| Phyto-remediation | Phyto-extractin(soil pollution) | installation of green plants to extract the pollutants |
| | | |
| | Phyto-extraction (ground water pollution) | installation of strong 'water absorbing' trees (eg. poplars) to remove the ground water pollutants (ground water pollution in the top ground water layer) |
| | | |
| | Phyto-stabilisation | installation of green plants to control the dispersion of pollutants by blowing away and/or erosion |
| | | |
| | Rhizo-degradation | installation of green plants to remove the pollutants in the rhizo-sphere |
| | | |
| Excavation | Excavation | Excavation met digging machine |
| | | |
| | Ground turnig vertical construction | installation of shuttering |
| | | installation of a Berliner wall |
| | | installation of a bore pile wall |
| | | installation of a deep wall |
| | | |
| | Water turning vertical construction | Seal with a steel dam wall |
| | | Seal with deep wall |
| | | |
| | Building well drainage (extraction of water to lower the water level) | extraction on vertical filters |
| | | Extraction on a drain |
| | | extraction via open drainage |
| | | purification of ground water |
| | | |
| | Soil transport | Transport by truck |
| | | Transport by ship |
| | | Transport by train |
| | | |
| | on-site/off-site soil remediation | extractive cleaning |
| | | electro reclamation |
| | | thermal cleaning |
| | | Phyto-remediation |
| | | biological cleaning |
| | | |
| | ex-situ immobilisation | immobilisation by cementation |
| | | Immobilisation by vitrification |
| | | chemical immobilisation |
| | | |
| | Soil dump | Dump on a class I dump site |
| | | Dump on a class II dump site |
| | | Dump on a class III dump site |
| | | on-site dumping |
| | | |
| In-situ chemical reduction | insert of zerovalent iron, or another granular or powdery zerovalent metal/alloy | Injection on vertical filters |
| | | Injection on horizontal filters |
| | | Injection by direct push |
| | | Insert with bore techniques |
| | | Injection into the excavation area |
| | | injection in a groove/grind case |
| | | |
| | insert of chemical reagents, different from zerovalent metal | Injection on vertical filters |
| | | Injection on horizontal filters |
| | | Injection by direct push |
| | | Insert with bore techniques |
| | | Injection into the excavation area |
| | | injection in a groove/grind case |
| | | |
| | installation of zerovalent iron, or another granular zerovalent metal/alloy, maybe mixed with filter sand, as a reactive zone/wall | installation met groove machine (not deeper than ca. 10m) |
| | | installation in 'funnel en gate' concept |
| | | Injection by direct push |
| | | installation met bore techniques |
| | | |
| Civiel technical isolation | Horizontal upper-sealing | installation of a plastic foil layer |
| | | installation of a concrete/asphalt layer |
| | | installation of a clay layer |
| | | |
| Clean top layer | | installation of a geo-textile |
| | | installation of clean soil layer |
| | | installation of a plastic foil layer under the clean soil layer (optional) |
| | | installation of a clay layer under the clean soil layer (optional) |
| | | installation of a drainage layer (optional) |
| | | |
| | Horizontal under-sealing | installation of a plastic foil layer |
| | | installation of clay mats |
| | | installation of a concrete layer |
| | | installation of a drainage layer (optional) |
| | | injection of cement/bentonite |
| | | |
| | Water turning vertical construction | installation of a steel dam wall |
| | | installation of a deep wall |
| | | installation of a cement-bentonite wall |
| | | |
| | Extraction of water to lower the water level | extraction on vertical filters |
| | | extraction on drain |
| | | extraction on deep well |
| | | purification of ground water |
| | | |
| electro reclamation | electro reclamation | installation of an electric field to remove heavy metals |
| | | |
| mobile NAPL removal | selective NAPL removal | skimming in vertical filters, open trenches, grind trenches, drain with pomp well |
| | | |
| | active removal | Multiphase extraction/high vacuum extraction |
| | | Bio-slurping |
| | | Water purification |
| | | Air purification |
| | | NAPL removal |
| | | |
| | In-situ thermal cleaning | injection of steam |
| | | injection of stream |
| | | Multiphase extraction/high vacuum extraction |
| | | Bio-slurping |
| | | Water purification |
| | | Air purification |
| | | NAPL removal |
| | | |
| non-mobile NAPL removal | active removal | Multiphase extraction/high vacuum extraction |
| | | Bio-slurping |
| | | Water purification |
| | | Air purification |
| | | |
| | Co-solvent-/detergent flushing | Infiltration of co-solvent/detergent via drain |
| | | Infiltration of co-solvent/detergent via vertical filters |
| | | infiltration of co-solvent/detergent via open canal |
| | | infiltration of co-solvent/detergent via horizontal filters |
| | | Infiltration of co-solvent/detergent via grind grooves/grind cases |
| | | extraction on vertical filters |
| | | extraction on horizontal filters |
| | | purification of ground water |
| | | Water purification |
| | | |
| | in situ thermal cleaning | injection of steam |
| | | injection of stream |
| | | Multiphase extraction/high vacuum extraction |
| | | Bio-slurping |
| | | Water purification |
| | | Air purification |
| | | NAPL removal |
| | | |
| in-situ chemical oxidation | injection of permanganate | Injection on vertical filters |
| | | Injection on horizontal filters |
| | | injection on gravel groove/gravel case |
| | | Injection by direct push |
| | | Installation of socket systems |
| | | Injection into the excavation area |
| | | infiltration on open canal |
| | | |
| | injection of activated per-sulphate | Injection on vertical filters |
| | | Injection on horizontal filters |
| | | injection on gravel groove/gravel case |
| | | Injection by direct push |
| | | Installation of socket systems |
| | | Injection into the excavation area |
| | | infiltration op open canal |
| | | |
| | injection (modified) Fenton's reagents | Injection on vertical filters |
| | | Injection on horizontal filters |
| | | injection on gravel groove/gravel case |
| | | Injection by direct push |
| | | Injection into the excavation area |
| | | infiltration on open canal |
| | | |
| | injection of per-carbonate | Injection on vertical filters |
| | | Injection on horizontal filters |
| | | injection on gravel groove/gravel case |
| | | Injection by direct push |
| | | Installation of socket systems |
| | | Injection into the excavation area |
| | | infiltration on open canal |
| | | |
| | injection of per-ozone | Injection on vertical filters |
| | | Injection on horizontal filters |
| | | |
| | injection of ozone | Injection on vertical filters |
| | | Injection on horizontal filters |
| | | |
| Natural attenuation | Natural attenuation | monitoring (code of good practice) |
| | | |
| in-situ immobilisation | Cementation | injection of cement/bentonite |
| | | |
| | chemical immobilisation | injection of chemical product to enhance precipitation of pollutants |
| | | |
| | physical immobilisation | injection of absorptives |